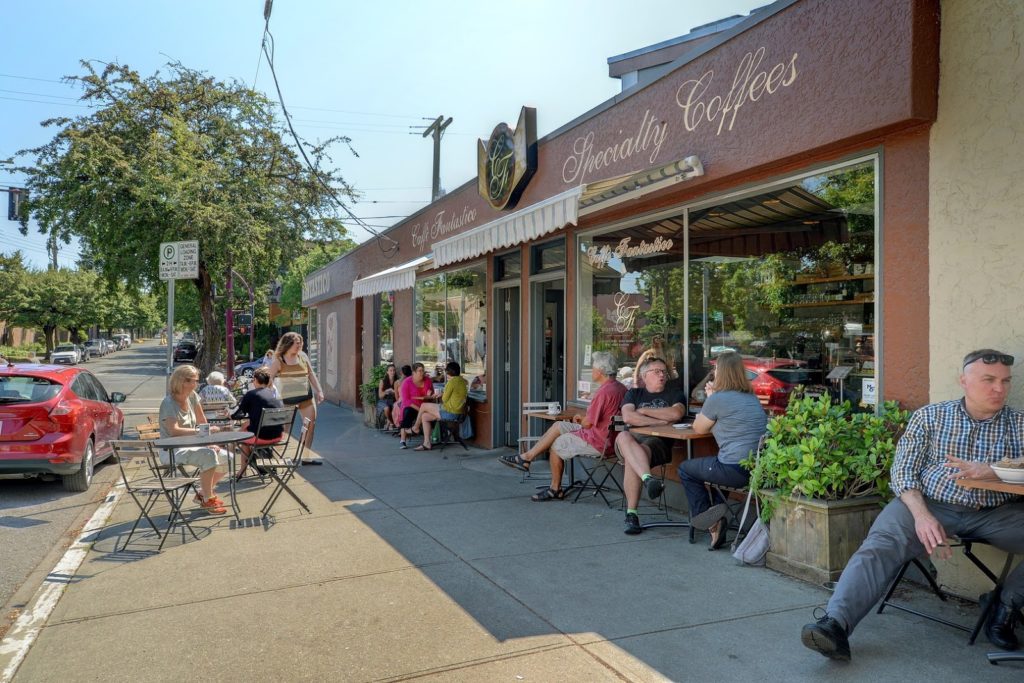 HOW TO SPEND AN AUTUMN DAY IN VICTORIA, BC
When the leaves start turning in Victoria, we know that summer is gone and it's time to begin embracing our autumn activities here in the city! Lucky for us, we have no shortage of amazing ways to make the most of the season here – from our friendly, locally-owned coffee shops where we can pick up a warm beverage, to our abundance of farms, markets, and wineries in beautiful Saanich, an autumn day can be well-spent here!
Here are just a FEW of our suggestions on how to spend an autumn day in Victoria.
Grab your loved ones, bring a sweater, and head out for an awesome day!
Bike Ride on the Galloping Goose Trail
There's hardly anything more invigorating than a bike ride in the crisp autumn air. The Regional Galloping Goose Trail is approximately 55 kilometres, and extends from Victoria to Sooke. It's an easy, flat, and hard-packed trail which allows you to see both urban and natural beauty in the city.
Get Lost in Pendray's Corn Maze
This is the largest corn maze on the island! With over 14 acres of corn and over 10km of trails, a smaller maze for young kids, a tire playground, a corn pit, barrel train rides, AND pumpkin bowling, you can bring the entire family for a fun filled day!
Located just 5km from Swartz Bay ferry terminal and 25 km from Victoria. Free parking, too!
Support Your Local Farmers
One of our favourite things to do in autumn is to head out to Saanich to visit one of our locally-owned farms; perfect for apple-picking, selecting that perfect pumpkin, and sourcing some fresh produce. Try making dinner with your finds from one of our local farms here on the Saanich Peninsula – we promise you it will taste better!
Not sure where to begin? Try Michells Farms at 2451 Island View Road in
Saanichton.
Stroll Beacon Hill Park
Sometimes, simple pleasures are the BEST! Pick up a coffee (see below for our recommendations) and bring a loved one and your camera, and prepare to be wowed.
The park is situated right downtown Victoria (we love starting the walk on Dallas Road!), and is within easy walking distance from most downtown hotels, motels and the inner harbour. There's over 200km of trails, a petting animal farm and wading pool, water fountains, picnic areas, and much more.
Sip a Hot Coffee
If you love coffee, you'll agree that Victoria is an oasis – we have no shortage of independent shops who take pride in the quality of their roasts AS WELL as the service and care they provide to their patrons! There are many to choose from, but some of our favourites are Hide + Seek Coffee in Oak Bay (close to our office!), Caffe Fantastico in Quadra Village (there are 2 other locations, too), Discovery Coffee (also has three locations), and yes – we know it's not locally-owned, but we love a good Starbucks sometimes too!
Art of the Cocktail
The Island's biggest cocktail celebration is happening this year on October 19th, with A Night in Paris theme! With over 40 exhibitors and over 60 spirits, this party offers tasting as well as masterclasses so you can learn how to impress at your next party, from the professionals. These tickets tend to sell out quickly, so you'll want to get yours quickly if you're interested in attending.
Well, that's just a few of our favourite ways to spend an autumn day here in our beautiful city! Do you have any activities, events, or must-sees you'd like to see on this list? Please leave your comments below – we'd love to hear them!
Thanks for reading,
Johnny Olarte Real Estate